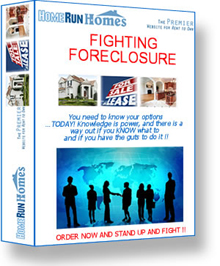 Save Your Home
...By Fighting Foreclosure !!







Are you Behind in Your Mortgage Payments?
Have you received a letter from your Bank about being late on your mortgage?

What happens next?
* The missed mortgage payments begin to add up with late fees.
* The amount that you have to pay your mortgage company continues to pile up daily!
* Sadly, you will be evicted from your own home, and it will be sold in the foreclosure auction.
* Your credit will be ruined for years!
* Everything you've worked for will go down the drain.
* As the reality of it sinks in...you can't eat and you can't sleep...
"What will my friends think? What will my family say? Am I a loser? Am I a bad person?"
STOP RIGHT THERE !!
Did you know:
There are still

some lenders who will lend you the money you need to reinstate your mortgage

so you can keep your home?
(Even people with VERY BAD CREDIT CAN BE HELPED!)
There are OVER 10 DIFFERENT

WAYS TO AVOID OR STALL FORECLOSURE AND KEEP YOUR HOME

WHILE YOU GET BACK ON YOUR FEET?
You can have some of the same

knowledge about your foreclosure options

as an ATTORNEY ??
Bankruptcy, should it become a final option for you, can either be your biggest ALLY or your WORST NIGHTMARE? You can learn how to

USE IT TO YOUR ADVANTAGE!!!!
Would you like to know:
A Complete explanation of the foreclosure process
What a foreclosure bailout lender can do for you.
How to spot unfair foreclosure lending practices
How to speak to a lender and a foreclosure bailout lender.
How improve your LTV to make you more attractive to foreclosure lenders
Everything you should know about your credit score and how it is used
Bankruptcy Basics (should this become an option for you)


Would you like to receive:
Lists of FREE web sites to

evaluate your home's value

(helpful in obtaining foreclosure loans)?
Lists of FREE web sites to

calculate your mortgage payments

(your post-foreclosure loan payments)?
Lists of FREE Bankruptcy information references?

Some Good News...You can Receive ALL of the Above
We have condensed a knowledge base of foreclosures and lending issues into a quick, easy guide, called, "Fighting Foreclosure" (Click Here For The Actual Table Of Contents)
Do NOT Give Up - Get Your Copy RIGHT NOW...
AND FIGHT FOR YOUR HOME !!